Quilted Duffel Bag Class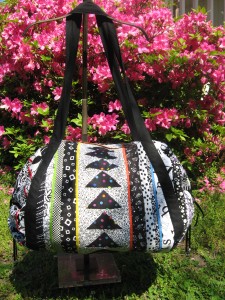 This medium-sized Quilted Duffel Bag can serve many purposes and is fun to carry. It is especially helpful to carry all of the quilter's "essentials' to the next bee or guild meeting. But also a great bag that can be unzipped and folded flat in a suitcase to be used for those "unexpected" quilt shop purchases!
The bag is made up using a coordinating jelly roll packet or a collection of fabric strips from your stash. It is lined and quilted using cotton batting. Coordinating fabric covers cotton webbing for the sturdy handles and a zipper is used as the duffel's closure.
This class is for all levels of quilters and the sewing techniques will include:
How easy it is to insert a separating zipper;
How to make three-dimensional flying geese;
How to make and insert mini accent flanges; and
How to finish off seams giving your duffel a more "professional" appearance.