Quilted Duffel Bag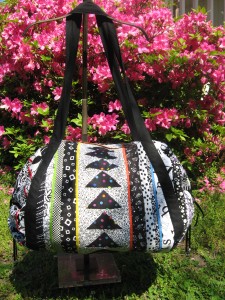 This fully illustrated and colored Quilted Duffel Bag pattern shows you how easy it is to insert a separating zipper, make three-dimensional flying geese, make and insert mini accent flanges and how to finish off seams to give your duffel a more "professional" appearance. It is a great way to use up some of your coordinating fabric strips or use that jelly roll that you do not have plans for.
Price of Duffel Bag Plus Pattern is $12.00 plus shipping. [Pattern includes the handle webbing.]
A complete kit is available in approximately the same fabrics as illustrated above for $110.00 plus shipping. This complete kit includes the zipper, webbing, ribbon, beads, pattern, ruler, fabrics for outside of bag, fabric for handles, fabric for inside of bag and cotton batting. All you need to supply is the thread and time!
Triangle Genie, Jr. $12.00 [used in the Duffel Bag – optional but recommended]